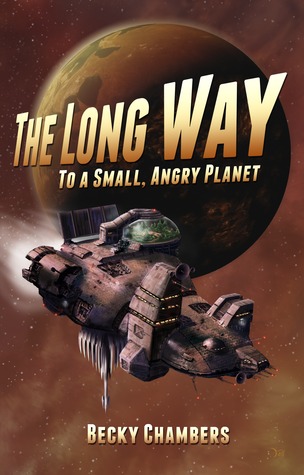 When Rosemary Harper joins the crew of the Wayfarer, she isn't expecting much. The Wayfarer, a patched-up ship that's seen better days, offers her everything she could possibly want: a small, quiet spot to call home for a while, adventure in far-off corners of the galaxy, and distance from her troubled past. But Rosemary gets more than she bargained for with the Wayfarer. The crew is a mishmash of species and personalities, from Sissix, the friendly reptilian pilot, to Kizzy and Jenks, the constantly sparring engineers who keep the ship running. Life on board is chaotic, but more or less peaceful – exactly what Rosemary wants. Until the crew are offered the job of a lifetime: the chance to build a hyperspace tunnel to a distant planet. They'll earn enough money to live comfortably for years… if they survive the long trip through war-torn interstellar space without endangering any of the fragile alliances that keep the galaxy peaceful. But Rosemary isn't the only person on board with secrets to hide, and the crew will soon discover that space may be vast, but spaceships are very small indeed.
***** *** *******
This book is a fine example of an independently self-published book (subsequently re-published by Hodder & Stoughton) by a gifted storyteller. Here, Chambers has written the sort of book that I would love to write someday, one with interesting characters, interesting aliens and far-off, wonderful places.
The story isn't so much about the activities of the wormhole-creating starship Wayfarer but rather about the diverse crew members, and more specifically who they are. Each character has an interesting story that kept me intrigued, and their stories don't appear to be finished with this book so hopefully there's more to come.
Throughout the book, I had a definite sense that the author has something bigger to say, an axe to grind if you will, maybe about the diversity of people and how it's okay to be different, etc. I can't quite put my finger in what it is, and I don't know the author, but I felt her passion, and that made it even more interesting.
Overall, a really good character-driven story within a well-built universe with enough action and suspense to keep you hooked. I'll keep my eye on this author for sure. It's followed in the three-part series by A Closed and Common Orbit.
Buy the ebook
HERE
(Amazon)
Buy the paper book
HERE
(Book Depository)